Equipment details:
Date of Manufacture:
Currently Configured for: N/A
Current Equipment Status: Available
Location of Equipment: Caldwell, United States
Available date: Currently Available
DOMESTIC SALE: Only offers from US entities will be considered. Seller will not clear the equipment for export or act as Exporter of Record from the United States.
Turbo molecular pump with controller
Varian TV 300HT
Model No : 969-9037
Controller Model: 969-9524
Condition : New and Never use
Technical Data
The Turbo-V300HT series pumps are turbo-molecular pumps for high and ultra-high vacuum applications and can pump any type of gas or gas compound. They are not suitable for pumping liquids or solid particles. The pumping action is obtained through a high speed turbine (max. 56000 rpm) driven by a high-performance 3-phase electric motor. The Turbo-V300HT pumps are free of contaminating agents and, therefore, are suitable for applications requiring a "clean" vacuum.
The Turbo-V300HT pump consists of a high frequency motor driving a turbine fitted with 8 bladed stages and 3 Macrotorr stages. The turbine rotates in a counter-clockwise direction when viewed from the high vacuum flange end. The turbine is made of high-strength, light aluminium alloy, and is machined from a single block of aluminium. The turbine blades have five different angles, from 42° to 10°, while the Macrotorr stages are in form of discs. The turbine rotor is supported by permanently lubricated high precision ceramic ball bearings installed on the forevacuum side of the pump.
Inlet: ISO100
Exhaust: KF25
Vent valve: thumbscrew
Pumping speed: 250 l/s (N2)
Compression ratio: > 2 x 10^8 (N2)
Weight: 10 lbs
Varian V300 HT Pumping Speed & Compression ratio Graph: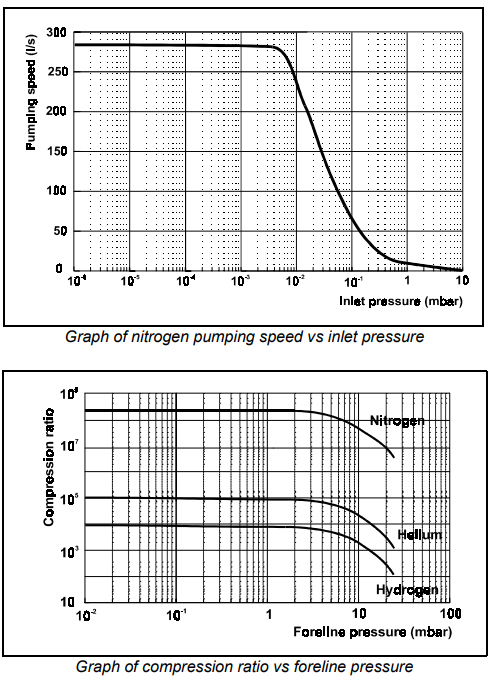 Varian V300 HT Dimensions